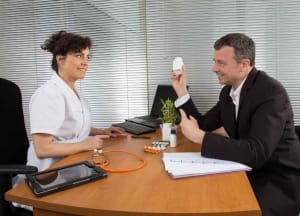 You'll be the vital link between medical and pharmaceutical firms and healthcare providers as a Medical Sales Representative. General practitioners (GPs), hospital doctors, pharmacists, practise managers, nurses, dentists, and veterinary surgeons are just a few of the people you'll meet. You'll position and differentiate your items – which might include prescription pharmaceuticals, drugstore or OTC brands, wound care, nutrition, diagnostics, or vaccines – from the competition by using your sales, negotiation, and disease/therapy experience. You'll learn about the customer's wants and then market the relevant benefits of your products to get them to commit to changing their prescription behaviours.
Medical sales representatives serve as a vital link between pharmaceutical and medical corporations and healthcare providers. One of the numerous motivations to engage in medical sales is the opportunity to assist in the delivery of treatments and medical devices that enhance or save patients' lives.
It goes without saying that a strong work ethic and excellent sales abilities are required to be a successful medical sales representative. However, there's a lot more to it. To make a name for yourself in the field, you'll need to gain the respect of your clients and co-workers, as well as demonstrate a willingness to learn and grow.
Here are three tips to help you become a successful medical sales rep if you want to make a difference:
Concentrate on developing relationships.
The key to a successful medical sales representative career is to improve relationships with both new and existing clients. Clients will be hyperaware of whether you keep your commitments, respect them, and make them feel valued in the early phases of a relationship. Positive relationships, according to the Harvard Business Review, are one of the fundamental characteristics needed to develop trust, along with consistency and excellent judgement.
Consistency entails being dependable and maintaining current client relationships. Maintain open lines of communication, be dependable, and respond to your client promptly, even if you don't have an answer.
Become an authority on the goods your client sells.
In the medical sales industry, having sales abilities and the capacity to create strong relationships isn't enough. The ability to understand the product at the same level as your client will offer you an advantage.
Because products are created to treat specific medical issues, they can be quite complicated. As a result, you must be aware of the benefits and drawbacks, as well as be prepared to respond to any medical queries that professionals may pose. You should also be well-versed on reimbursement and illness states, as well as be aware of the industry's significant developments.
The number of employees seeking performance feedback has climbed by 89 percent in the last two years. Why? Because feedback is necessary for progress, whether it is positive or negative.
Positive client feedback provides insight into the client's priorities. If they say anything positive about your quick response time and ability to get to the root of the problem, you've just disclosed one of your greatest assets. If you're goal-oriented, like the majority of medical sales people, you'll enjoy receiving constructive criticism. You'll have something to work on and improve as a result of this.
Make a data-driven strategy.
In more ways than one, technology is revolutionising the sales process. It's transforming the world around us, in fact. The most valuable resource on the planet is no longer oil, but data. So, how can statistics help you become a more effective medical salesperson?
Begin by considering what data you might be able to acquire and how you might be able to obtain insight from it. This may include keeping track of how many clients you speak with each month, your success rate when pursuing new leads versus referrals, or the amount of time you spend on the phone with a customer. Combine your data to form a larger picture of your sales process, allowing you to understand where you're succeeding and where you need to improve.
You may also like to read