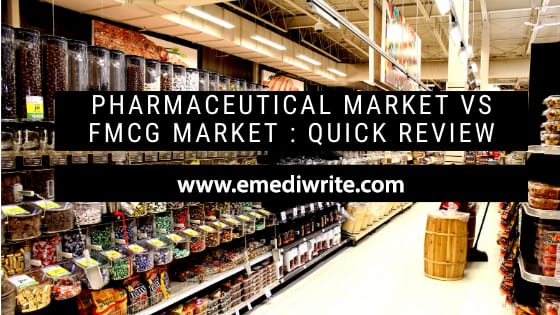 The pharmaceutical sector is known for having a robust R&D and a sizable sales staff. However, over time, pharmaceutical businesses have encountered a number of difficulties, including high R&D costs, product patent expirations that coincide with price erosion, and the consolidation of pharmaceutical firms.
Figure 1: The following illustrates a schematic view of the distinctions between the FMCG and pharmaceutical industries.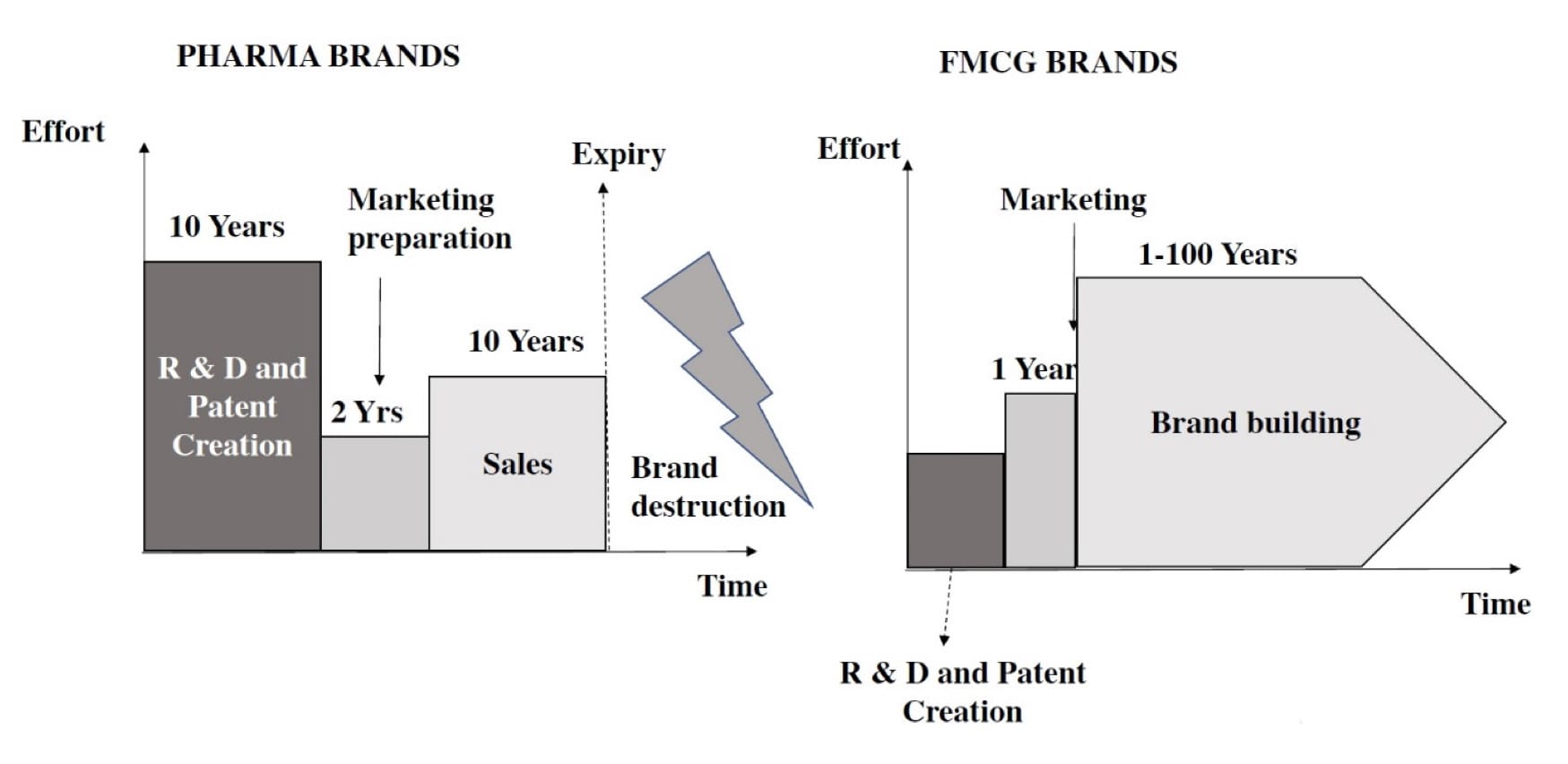 There are stringent rules for the pharmaceutical industry. Because of this, the introduction of new products to the market moves slowly. Patent protection for pharmaceutical items is not very long. Contrary to FMCG products, pharmaceutical brands cannot be transferred after a patent expires. Brands of non-prescription pharmaceuticals, like Fast-Moving Consumer Goods (FMCG) items, can last for a very long time while those of prescription drugs only last for about ten years (Figure 1).
Given modern science and technology, established trademarks become less significant when a new chemical is discovered that is more effective for a particular treatment. These "super brands" can endure the expiration of their patents and develop "a link with the consumer at a level exceeding basic functional performance."
On the other hand, FMCG businesses incorporate brand creation early in the process of developing a product. The distinction is that pharmaceutical businesses prioritise product development over brand building. The latter have not been as effective in harnessing brand power. Nevertheless, certain OTC medications have substantial advertising efforts in some markets, such as the United States. Because of this, branding in the pharmaceutical sector is ten years behind that of the FMCG sector.
Advertising is a crucial component of brand growth, which takes time. In other markets, new threads within this paradigm, such as direct to consumer advertising (DTCA) have evolved . In a lot of nations, it is illegal to advertise prescription medications. The only two nations that permit DTCA for prescription pharmaceuticals when the consumer has little to no drug selection options are the United States and New Zealand. Additionally, advertisements that feature both the product and an associated indication are prohibited in Canada.
Prescription medicine marketing initiatives are based on functional qualities of products, such as clinical and product-related features, in nations such as India where DTCA is not permitted. Promotion includes a variety of marketing initiatives that are primarily targeted at healthcare professionals, including personal sales, drug detailing, journal and software advertising, sponsorship of educational events, educational materials, promotional goods, public relations initiatives, and disease awareness campaigns (DACs).
On the other hand, because OTC or non-prescription medications are available directly to consumers, there are no regulatory constraints on their use. Advertising of OTC goods to the general public is permitted. In many ways, OTC branding is similar to FMCG branding in that it aims to gain market share by achieving brand recognition, preference, and loyalty.
Brands play a huge impact in OTC drug purchases since end users play a large role in this decision. Marketing strategies used in promotion include DTCA (including TV, radio, print commercials, etc.), details, sponsorship, events, direct mail, promotional items, public relations efforts, social media, and viral marketing. Promotion is aimed at both consumers/patients and healthcare professionals. The audience's demands should be the first priority for OTC marketers because brand association and brand image are derived from consumer needs.
There are three fundamental brand name strategies used by the FMCG industry. The terms "descriptive brand," "new brand," and "company brand" are used here. Pharmaceutical brand name tactics, on the other hand, use various emphasis points. These include the official name of the company (Novarapid-Novo Nordisk), the therapy (Procardia), the indication (Glucophage), the class (Mevacor/Zocor), the scientific name of the active ingredient (Indocin for Indomethacin), and a new brand name (Zantac, Prozac).
Except for the well-known corporate and new brands, generic drugs can easily undermine a pharmaceutical brand's positioning, image, or name recognition. Brand management must be careful since there are times when corporate and product brand names may be closely related and may have an impact on one another. For instance, Vioxx, a nonsteroidal anti-inflammatory medicine, was pulled from the market, which had a detrimental impact on the corporate brand of Merck.
You may also like to read